SCHEMATIC DESIGN DEVELOPMENT CONCEPT SKETCH
CONCEPT SKETCH FLOOR PLAN
DESIGN LAYOUT, SIZES, STYLE AND COSTS SKETCH
COMPUTER CONCEPT FLOOR PLANS
COLOURED FLOOR PLANS 3D MODELING CONCEPT
3D MODELING INTERIORS FURNITURE
FURNITURE LIGHTING LANDSCAPE DESIGN
APPLYING TEXTURE COLOURS MATERIAL
CONSTRUCTION PLANS DOCUMENTATION
LIAISE WITH CONSULTANTS COUNCILS APPROVAL
JOINERY DRAWINGS & SCHEDULES OF FINISHES
FURNITURE INTERIOR DESIGN
DESIGN REVIEW & SITE INSPECTIONS
AWARD WINNING PROJECT COMPLETION
Building Design
We create forward-thinking bespoke designs that challenge and improve upon traditional living spaces.
Interior Design
We have a vision for the entire home, and provide innovative interior design and landscaping solutions that complement.
Sustainable Design
We are committed to the integration of sustainable and insightful building practices through each stage of the creative process.
Landscape Design
Our designs are created with the outdoors in mind: an effective landscaping strategy provides the ultimate complement to your home.
OUR PROCESS
From conception to completion, we believe in proven philosophies that deliver the best outcomes.
Concept Design
Schematic Design and Design Development, including provision of sketches, detailed briefs, and computer rendered 3D floor plans and elevations.
Construction Plans & Documentation
We are dedicated to the hallmarks of quality construction and workmanship throughout every facet of the building process.
Joinery Drawings & Schedules
We believe in integrative design, and providing custom cabinetry, furniture and landscape design services that complement the living space.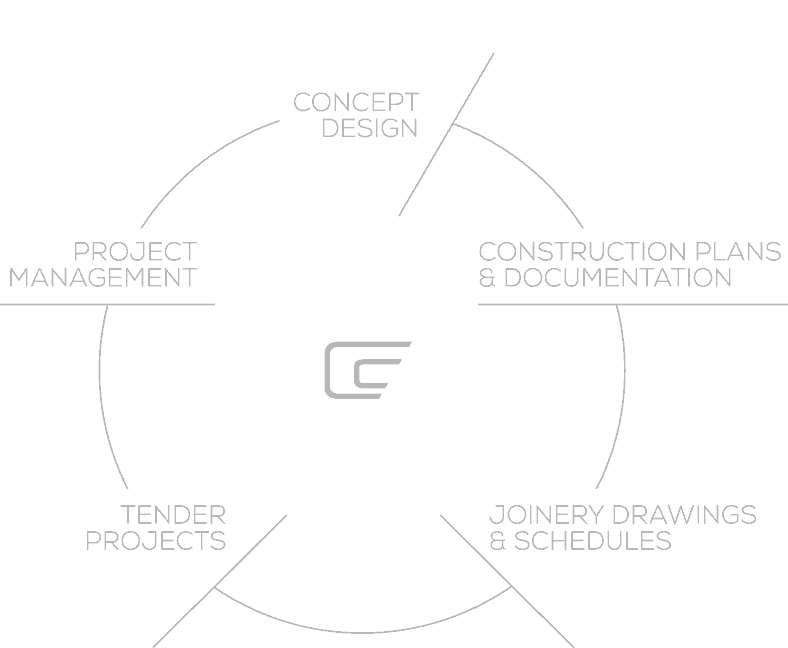 Council Approvals & DA Submissions
Our hands-on approach ensures that all workmanship and documentation satisfies planning requirements and DA submissions.
Tender Projects
We manage the entire tender process, including all documentation relating to the reception, comparison and acceptance of contractors' tenders.
Project Management
We collaborate closely with clients, contractors and consultants to ensure each project responds to strict budget and time constraints.